Peace!

I am exhausted from the New Year festivities. Within my culture we celebrate the Asiatic New Year at the spring equinox. Also, the Gods who helped the God and I move refused to take money for their aid. So we threw them a shindig this weekend as well. I am exhausted!

I did manage to finish curtains for the public rooms with the exception of the dining room. The DR is really a sun porch, but for us it's a DR. The master bedroom and bathroom have not gotten their embellishment either. But do you know what? They will be just fine! And I got a shine on the wood floors that even the men noticed. It has gotten warm, real warm, in the "A" and I need to swap out to my warm weather clothes. So that brings me to the reason for this build…. Simplicity 2766....

I hate Simplicity patterns. I do. I have gotten to the point where I can say, I doubt I will buy any more unless the instructions are obvious. It's not the styles that bother me but the instructions. I ALWAYS read instructions. I read them in the store when I buy new patterns. I read them while considering sewing them. I read them before I go to sleep at night. I want you to know and understand that I read the directions. Okay. So why when I follow the directions to a "T" the garment comes out muffed up? Answer me that? And…. It doesn't happen with Vogue's intricate hard assed patterns, or Mcalls or Butterick, or even Kwik Sew. Hell, not even with vintage patterns! Only Simplicty. I am so over them. Why did I buy it in the 1st place? IDK. It was probably recommended and/or on sale.

This garment is the foundation of my summer wardrobe. I'm calling it "The Now & Later Collection" after my favorite childhood (and adult) candy. I wanted a tangerine car coat with bracelet sleeves. I love the color, but I don't own much tangerine/orange. I mean my Jeep is orange, but that is more of an accessory and not a garment. So I wanted a pop, and I got it with this jacket. The fabric is this luscious linen from Gail K's. I love that store for browsing. I find her too freaking expensive. But, I hit the lottery. Not for a lot (not even enough to pay off the Jeep), but enough to afford $16/yd tangerine linen. I bought 5 yards of it. It is sooooo pretty and feels so wonderful to my skin. My pessimistic coworker saw the bag (nosy heifer). I have blogged about her before. She thinks she can sew and is an authority because she made a skirt and an apron in high school. But she does't own a machine and never has. I wasn't trying to show her the fabric. She said, "That's pretty but I don't see where or how you can wear that color." Whatever.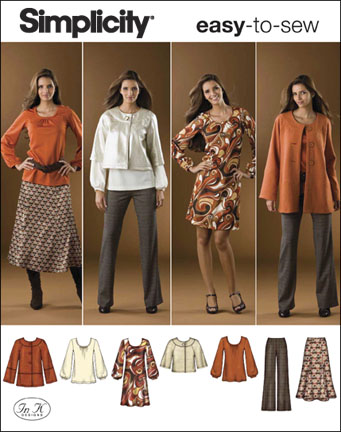 Pattern: Simplicity 2766
Description: Wardrobe: I made the F view long jacket with the short sleeves
Size: 18
Did it look like the pattern envelope when you were done sewing it? Mostly
Fabric: Tangerine Linen
Were the instructions easy to follow? Heck NO
What did you particularly like or dislike about the pattern?
I hated the instructions more than you can imagine. I started the jacket last week and got so frustrated that I had to walk away from it but I came back and rigged it to something I could wear
Pattern alterations or any design changes you made?
I extended the collar and omitted the buttons. The buttons that I fell in love with were $8/button. I wanted to hold on to my money a little longer I can always add them later if I want.
Would you sew it again? Would you recommend it to others?
On both answers no. Will I wear the garment I made? Yes. It is the core of my summer wardrobe and I bought shoes to match.
I tried to smile this time. I have enough lined to either make some gloves or a skirt. Does anyone know if you can make gloves out of linen? I don't think I've ever seen any before.
Y'all like my shoes? I
ADORE
them!!!! I went to Macy's to purchase these shoes after seeing them online. In the store I saw beige and black versions but not the orange. The mean associate told me that they ONLY came in colors I saw. I told him I saw them online in orange and he called me a liar to my face! Seriously. I was about to snap six degrees of ghetto in the store. Instead I pulled up the shoes on my phone. the associate asked me if it was a Macy's website. Really? Style and Company is a Macy's brand and I reminded him of that. As he got nastier, I reached in my purse for my stun gun. i was taking him down. The manager heard the incident and saved him from electrical complications. She found the shoes in their computer, ordered them for me and gave me a SEVERE discount. Then she took the man aside. I'm not going back tot hat Macy's (and it wasn't even a Hood Macy's), but I got my shoes.
Peace!