Peace!!!!

The God and I went out with 2 of my friends. He doesn't have friends here without me, yet. We don't really have a lot of couple friends. We both have these social yet anti-social tendencies. Plus for some reason, in our Culture functional relationships are not the norm. Who knows.... But we had a double date with married friends of mine. These friends are really important to me. We became friends when I 1st moved to GA. They had been friends with me and my late husband. Then they were church friends. I had a lot of those. But when I left that particular church and started to attend another... I lost all the friends I had there. You know those friends who claimed to be ride or die friends... This couple remained close. When I left the church all together, they still remained my friends. I adore these people. But... I guess I found their limits. Since the God and I have been together they have become distant... Oh well. They invited us to attend something and we went.

The biggest thing that keeps me from going out, is I don't have a lot of going out clothes. the clothes I acquire are work clothes. Now my job is very casual, and there is very little I cannot wear so my limitations usually have to do with 3/4ths. I don't club. So when I "go out" it's usually to some function. See? this is getting more and more convoluted. Every summer I get a going out dress. Since when I do go somewhere it will always be with different people. I can wear the dress over and over again. My idea of a perfect "going out" dress is one that will shift from day to evening. Since I will get the most use out of something I can also wear to work. M6553 fit the bill.

I have had the pattern for some time now. I bought it when it 1st came out. It's a loose fitting dress and on big girls loose fitting is synonymous to sloppy. I don't do sloppy. I bought the fabric 2 years ago to make a shirt dress. Where shirt dresses have their place... that place is not on my back. My clothes need to be just a tad edgy. But I have seen so many versions of M6553 that I had to give it a shot. I'm glad I did.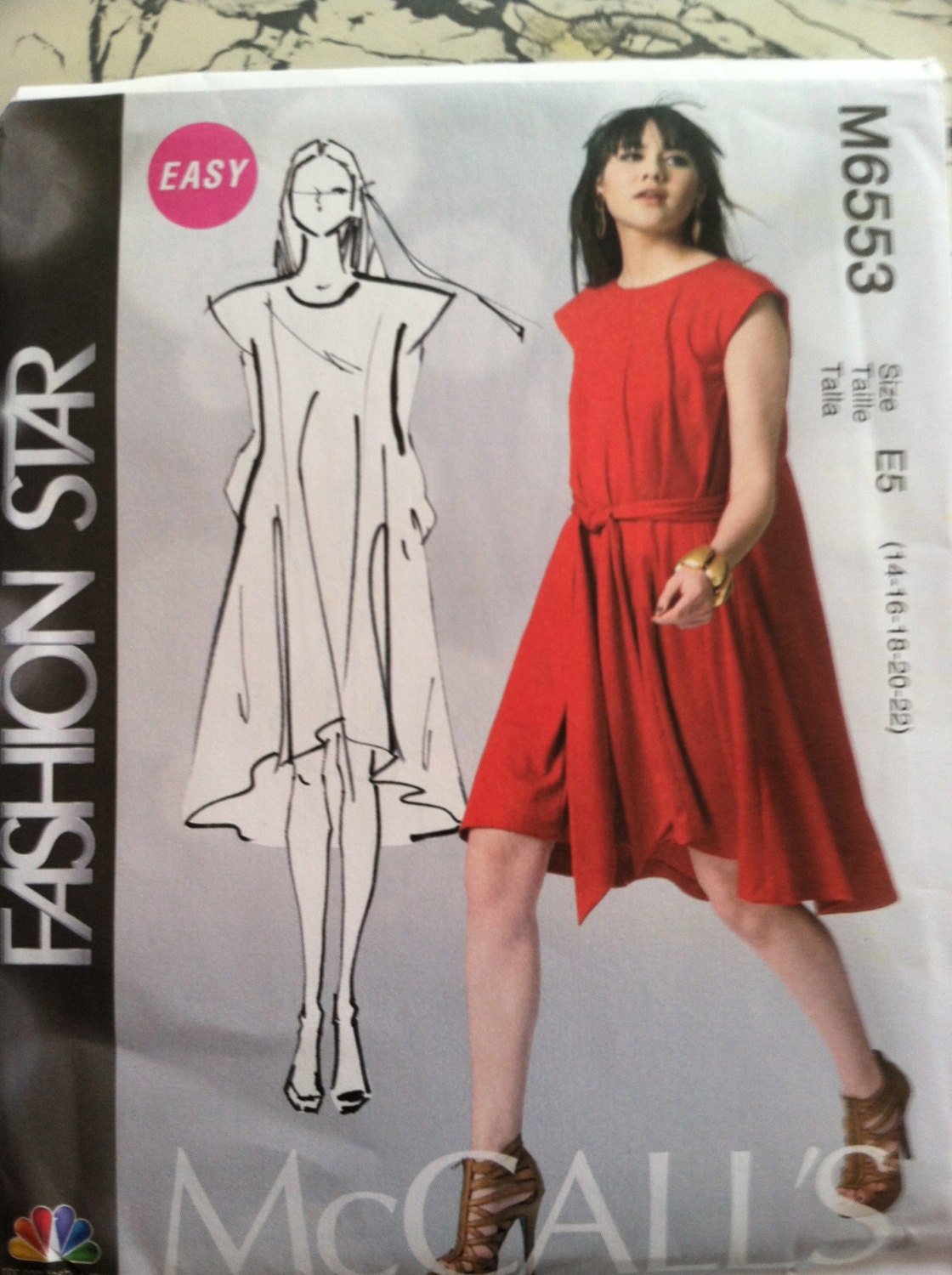 Pattern Description: Misses Dress and belt

Pattern Sizing: 14-22 (I cut 22)

Did it look like the photo/drawing on the pattern envelope once you were done sewing with it?
YES!!!

Were the instructions easy to follow?
Yes and no. Essentially they were but the instructions about where to place the belt vent was not there. I read them and re-read them. Folk have pics with them put in so I had to guess. I wish I had put it in higher. I still can but I wish to have done it the way I wanted up front.

What did you particularly like or dislike about the pattern?
I was surprised that something so loose fitting would work for me
I didn't like the lack of vent instructions


Fabric Used: Blue rayon. I don't like fabric that frays like this. Enough said

Yardage: 3 yards

Pattern alterations or any design changes you made:
I lengthened it an inch. I need for my knees to be covered. It kind of worked and kind of didn't. Everything lined up except the front piece. I am certain that I lengthened it an inch like I did the other pieces but it was exactly an inch short. That's why my knees are out. I don't know if it was supposed to be like that. ALSO.... I lost a pattern piece for the back yoke. I re-drew based on the directions and the pattern pieces that were there. I don't know what to say about that.

Would you sew it again? Would you recommend it to others?
Yes and Yes. I applied and interviewed for a ptj. And if I get it, i will be required to wear black. I found 3 yards of black fabric in my stash, I will use that to make another one but this time in a smaller size.

But my question is how many of this dress can one have in one's wardrobe?

Conclusion:
I really like it.



Peace