Peace!

This pattern is from the 1993. Clearly it's out of print. (I refuse to use the acronym for out of print... because I'm an AKA) That means it's vintage!!!!! I can't. Nope. I ain't ready! According to the interwebs... anything over 20 years is vintage. Damn.

I got this pattern in a mystery bag. This now defunct mom-pop shop used to sell like 10 patterns and odd notions in a mystery bag for a $1. Every time I'd buy some fabric from them (And I went like once/week) I'd buy a mystery bag or 2. Why not? I was always more curious than anything what was in the bag. There were a lot of baby clothes, doll clothes, bags and stuff that I don't wear. The sizes were super small too. But it was a dollar mystery bag. What do you expect? Some of the patterns I gave away to people who CLAIM they want to learn to sew but really just like the idea of sewing rather than the practice. But occasionally they had something in the bag for me. Usually 2 of the 10 patterns I could use. That's worth a dollar, right?

I sooooo remember the young woman I was in the 90's. I turned 21 on a Sunday in college in SC. LOL! Was super mad I couldn't buy alcohol on my birthday. My friends all came through with bottles for me to drink legally from. I had a drink from every bottle that came in the door that day and even went to an underground speakeasy. I was so hungover that Monday. I graduated college (92) ready to take on the world. I attended dental school until 96 graduation. Got married in 98. A cool wild ride of a decade. First (legal) drink to 1st car to doctorate to wife!

I remember how I looked too... It used to scandalize my mother. I did "Black-Girl-Grunge." Grunge was a 90's thing but you know Black people do style their own way.... I had Janet Jackson/Patra Poetic Justice braids. Actually. I wore my hair braided/cornrowed all while in dental school. Black hair takes a lot of time. I needed that time to sleep, eat, study and party. I wore the dark lipstick and also that green stuff that changes color... the baby doll dresses.... the Dr. Martens.... My mother used to tell me that I didn't look like a woman.

My favorite go-to go-out outfit was a thrift store man's suit that fit my bottom and closed in the front. (I've always had large breasts. And that is ALWAYS a big concern for me) I cut the pants into shorts took them in in the waist and put a professional looking cuff on them. I rolled up the sleeves of the jacket and actually tailor tacked them down so they would stay like that but not look altered. I wore this suit to every party! Either in pieces or all together. I changed out the top, hose and shoes. I had a kente cloth sleeveless tank with a pussy bow... I had that peasant white top with the big lapel that makes you look like a painter... Some times I wore the blazer with no top at all. I used to rock tall boots with platforms... another with stiletto heels. (my mother used to rock tall boots in the 70's and she used to keep them in her closet. She couldn't war them anymore, but wouldn't let me have them. So I'd steal the boots and leave the boxes)When I wore the suit with my DMs, I'd get that thick granny hosiery and tear big holes in it. My mother would have a hissy fit watching me get dressed. But she'd laugh it off. I promise you I had more fun than was allowed. That's why I'm not a 40-some woman not lamenting my lost youth. I just wish I had the energy to party all night and still be able to work or go to class then next morning. Now I gotta got to sleep before 10 or I'm no good for work the next day. I did what young people are supposed to do.

Anywho......

My goal with this dress was to have something black to wear on the weekend that wasn't super clingy. My fibroid is growing and becoming super noticeable. At first I was gonna make M6559 but that seemed more form fitting than I was wanting. I made M6559 a few years ago and I liked it.... but I just wasn't feeling it for this summer. I also wanted to have a high-low dress. Vanity, forced me to google high-low to see if it was still a thing. When you sew for yourself, you tend lose trends. That lends to looking homemade. High-low shirt is still hanging on... but by a thread. But High-low tops are trending. I decided to high-low the dress and leave the front a midi thereby making the trend current!

The fabric was a remnant that I got at Fine Fabric for $1.99. I assumed that it wasn't long and had planned to make a top out of it. Imagine my surprise when I unrolled it. It was enough to make this dress and plenty of fabric left for a headwrap that I don't need because I have a lot of black knit headwraps. FF just keeps on surprising me. I hope they never do anything to turn me off.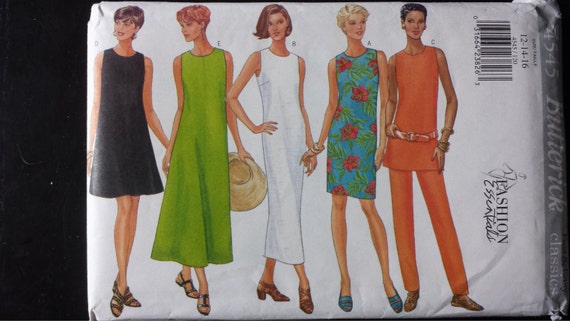 Pattern
:
B4545... loose fitting tunic/dress/separates. I made the "E" version pictured in the green dress
Did it look like the photo/drawing on the envelope?
:
Sort of. I made a few changes
Were the instructions easy to follow?
:
Didn't bother
How long did it take from start to finish?
:
Several days. For some reason, I just didn't finish it. IDK why. I'd sew a seam and something would catch my attention. And I'd be gone for a few days. Then I'd come back and do something else and then get distracted. I did run out of black thread. That took a few days to correct. I think the dress was TOO easy and just didn't keep my attention.
What did you like/dislike about the pattern
?
I dislike that the 90's is considered vintage.....
Fabric used?:
soft Black knit so sweet I keep feeling myself

Pattern alterations or design changes made
?:
I made a lot...
1. Instead of cutting the pattern pieces all separate and having a seam running up the front and back.... I just cut it in 2 pieces
2. the pattern comes with a facing... that I decided to not use
3. Since I didn't use the facing I needed to add on something around the collar and armscye
4. and I made it a high-low
Would you sew it again?
:
YES! If I like a pattern, I will sew it about 3 times then retire it.
Would you recommend it to others?
:
If you can find it
Conclusion
:
I'm old. I planned to wear this dress only on the weekend, but I find myself wearing it belted to work. Belting it makes it a bit high. But not belting it makes me look a bit pregnant. I wish I still had my Dr. Martens....
I have been making some other garments. If I blogged them before I don't see the reason to reblog it. Like I said earlier, 3 garments from 1 pattern is enough for me (unless it's a TNT basic). I'd planned to make 4 more black dresses for the summer. I probably won't. My eyes have turned toward the fall and when that happens I lose interest in summer clothes. That happens in the spring too. I'll be in mourning at least until Thanksgiving, probably until the end of the year. I bought some things from the thrift store. A few tops... a skirt. A bathing suit for parts. All Black. My boss asked me how long I was going to publicly mourn. I told him. He told me 2 things. (a) It was a nice and fitting tribute to my brother (He lost his sister recently) and (b) I'm really making it look good. I appreciate that....
Peace