Peace.

I almost didn't post this… Damn this pic is unflattering. I look like an old fat woman. But I'm smiling (told you I could do it) at my spoiled cat. My photographer really needs to stand when he takes my pic. It makes a big difference. And I know it's the dress….. And that is what you are suppose to think as well.

I won this pattern from a giveaway a few months ago. It's OOP. But there are other patterns that are similar. I haven't really been sewing a lot these days. I started taking classes to become a midwife. It is very distracting… And once I become a practicing midwife, my need for non-uniform clothes will go way down. So I haven't been making a lot of clothes. Also, its winter and I hate winter clothes. I have excema and the cold, the artificial heat and the layers required to keep warm all exacerbate my condition. It's bad every year somewhere…..

So behold my Christmas dress. To be worn to work on Christmas Eve, and on Christmas day. And no, I don't celebrate xmas, but I will go to Mommie's house and hang out with the peeps. This is really funny… I'm an AKA. We are taught to dislike and not wear red. I don't wear red. This is the only red dress I own! I decided to break out of my pattern.

Shall we?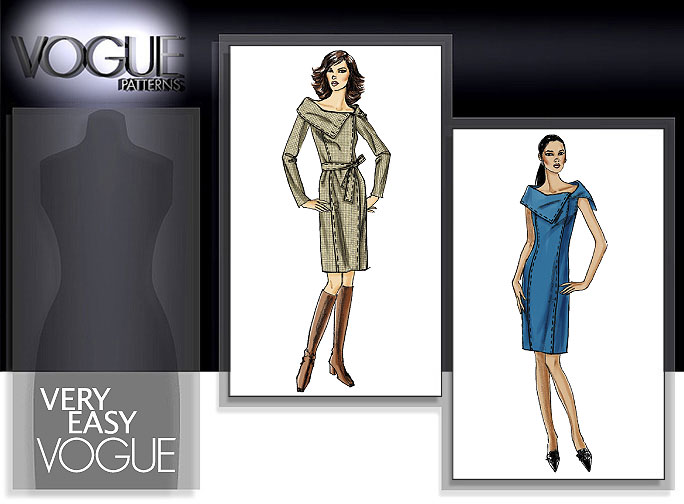 Pattern Description:
Princess Seam dress with attractive neck drape. I made it with sleeves.

Pattern Sizing:
I cut a 24 but it was really very loose on me. I probably could leave it 24 on the top and grade down to a 20 everywhere else

Did it look like the photo/drawing on the pattern envelope once you were done sewing with it?
Yes!

Were the instructions easy to follow?
They were. I had no problems. It was a bit murky with regard to the collar but not so bad

What did you particularly like or dislike about the pattern?
I liked the style of this dress. I have come to learn that when using a pattern with bells and whistles, use a solid color. Plain patterns can handle fancier prints.

Fabric Used:
Ponte knit! I really love this stuff. It is the knit that I will want to use over and over.

Pattern alterations or any design changes you made:
My biggest concern was whether the pattern was long enough to cover my knees. I'm righteous and display 3/4ths. I really would have preferred that this dress be a midi. But the reviews I read said nothing about lengthening this dress for it to be at least passed the knee. One particular blogger who reviewed the pattern had said in passing that she was my height and she didn't mention needing to lengthen the dress so I figured a little length would work. (I know I needed to do a muslin, but I had no time….) So I added an inch to the length of the pattern. I knew that my boobs and hips would cause it ride up a bit. The thing is… I lengthened the dress 2" but when it came time to hem it, I needed to cut off about an inch to make it even. SMH… I can't win. So it comes to about my knee. And I HATE my knees.

Would you sew it again?
Would you recommend it to others? I would. Next time, I would like to use black ponte knit and I will do the sleeveless version and it will be a LOT longer. That will be my LBD

My new years sewing resolution is to follow the pattern recommendations on the back of the envelope!


Whatever holiday you celebrate make sure it's a safe one.



Peace