Peace. Again…. I am going to complain about Simplicity patterns. It's getting to the point that I want to purge all Simplicity patterns from my stash. But… I paid for them so that's probably not going to happen. I'll give them away 1st. Also I have a head cold. I will admit that that is what it is. My voice and nose are all choked up. I can hear myself laboring to breathe. My chest is fine although I have a generalized achyness that I just cannot put my finger on why it's there and where it's coming from. I'm warm, all my teeth hurt and my eczema seems to be popping out afresh. Maybe just sheer crappiness has caused me to dislike Simplicity. Don't sew while sick. I have switched my diet to a more sattvic one and will just let nature take it's course. Does anyone other than me have cutter's remorse? It's holding me back. Buying fabric is not the problem. It's decided what to do with the fabric once it's bought. I always have an idea when I buy a fabric about what I want to do with it, but then it changes. So now when I buy fabric, I always buy a little extra. I will sit with a pattern on my nightstand reading and re-reading the directions until I can quote them by number in my sleep only to change my mind when I get to the cutting table. Anyone out there do this foolishness? Anyone? Is it just me? S2615 is a wardrobe. It has 2 tops, a dress pants and shorts. The only different pattern pieces are the pants/shorts combo. I made the top. I need more tops in my wardrobe. Grown woman tops. I bought some thin cotton knit at a sale in Decatur. $2/yard indeed! I love the color… coral… but have to take their word on the type of fabric it is because it is never listed on the bolt. Coral looks good on everybody. I wish more people realized that. I knew when I only bought 2 yards of it that it was meant to be a top. I was just not sure which one. Several patterns sat on the nightstand. In the end I decided on S2615 because it was sort of a tunic. Sort of….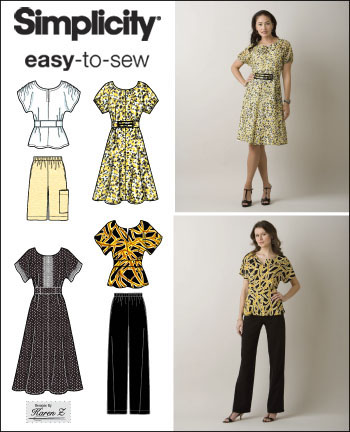 Posing in the kitchen after making breakfast for grown people who work from home! Slightly salty....
Pattern Description:
S2615 Misses' & Plus Size Sportswear Misses or Plus Size Pullover Dress, Top and Pants & Shorts
Pattern Sizing:
20W-28W I cut a 20
Did it look like the photo/drawing on the pattern envelope once you were done sewing with it?
Yes
Were the instructions easy to follow?
I guess
What did you particularly like or dislike about the pattern?
Simplicity's vague directions and I don't like garments that tie in the back. That's country. I figured I could finagle around it but it didn't work with the fabric. So I have a top that ties in the back.
Fabric Used:
Alleged cotton knit. In the knit's defense, I was able to iron it but it stayed really hot for a minute.
Pattern alterations or any design changes you made:
I am 5'3". Yes I admit that. I shortened it 3" for many reasons. (a) It would have come down like a small dress if I didn't. And (b) I didn't have enough fabric to make the top as is. I know I'm technically petite, but I don't normally to shorten clothes. I blame the boobs and other body parts
Would you sew it again? Would you recommend it to others?
I am teaching an Earth to sew who just found out that she is expecting. I will give the pattern to her. I think it is suitable for maternity. I didn't cut the pants since I don't wear pants. She can fit those however she needs to.
Conclusion:
I like it enough to not throw it out. It has a deep slit in the front that I find kind of sexy. I like the color more than anything else. Peace