Peace!!!!

Y'all it's my birthday!!!! (Well actually my true birthday is Saturday 11/10 at 8:31am) In my Nation we call it "Degree Day or "Bornday." Either way…. I'm getting my party on! Borndays are special. Everyone shares all the other holidays with other people. But on borndays are just for you. You get to be the center of attention. That is unless you are a twin, or are born on a holiday. One tradition I have… and I have many traditions…. Is to get me something new on my day, on my own terms. i.e... I buy/make something for Serenity; and that is more than likely a new outfit. When I grew up… yeah I'm getting old saying stuff like that!…. Children didn't have all the say in their lives they have now. You may have expressed your preferences, but you got what you got. When I got old enough to have my own money… because in my house, if someone gave you money, you HAD to hand it over to Mommie or she would not let you have any peace until she saw it spent…. I made sure to have at least 1 present that I truly wanted. Also I went to Catholic school, so I didn't have a lot of personal clothes. I guess I'm a bit on the hoarding side when it comes to clothes, shoes and purses. I never had what I wanted. And it wasn't because we were broke. We weren't. Mommie is just tight with a quarter. Seriously! She didn't buy anything we didn't need.

I have been telling y'all a bit about me personal life. And that ain't like me. I must truly be getting old and have begun to ramble. Anywho…..

Since my bornday is on Saturday, no one will see me in my new duds. And isn't that the point? So…. I made 2 bornday outfits. A cream one and a leopard/pleather one. I decided to wear the cream dress before and the pleather combo after. I'm expecting company over the weekend and I don't want to be in a white dress when she gets here. I'll wear the darker separates on Monday and make a bornday-new-outfit-sandwich. Apparently I'm not that old….

I bought Simplicity 9224 at a thrift shop when I was getting into patterns. It was 10 cents. And where is the cents sign on this keyboard? I really cannot bring myself to pay these exorbitant prices for old patterns that folks ask. I just won't. Especially when they were bought for all of 15 cents and not by the person selling them. I mean $35 for a pattern that cost 15 cents originally?? And even the thrift stores have caught on a bit and have begun charging $1 for patterns. I won't pay that either. I can buy a brand new uncut pattern that has all the pieces and instructions for $1 (on sale). I'm not taking the chance on a used one for the same price. And the big 4 have vintage patterns now a days.

One of the things that blows my mind is that 1979 is considered vintage. It is 33 years ago. I'm older than that at times. Anything 30 years or more is considered vintage. When I think of 1979, I think of the television show Dallas. I remember thinking, as a small child, how glamorous all the people in the show were. Since my mother had a job, I assumed I would have to work (and I do) and most of the working women were the receptionists at Ewing Oil. This looks like something they would wear. And didn't Ginger from Gilligan's Island work at Ewing Oil?

The pattern had all the pieces and instructions included. I'm very thankful for that. The pattern came in sizes 18 and 20 and was already cut for a 20. Again I'm grateful. I had some cream knit from a store that was half fabric half dollar store that was going out of business. I miss that store…. So I made out like a bandit with this combo.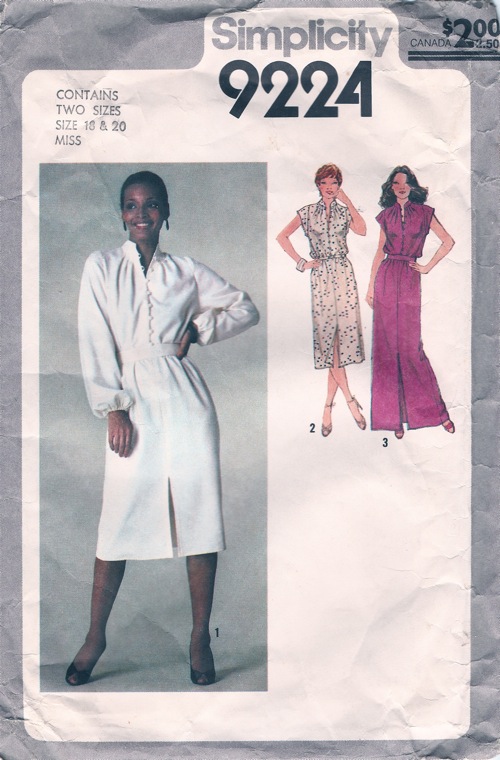 I tried to smile, I'm worried about wrinkles... And damn my boobs look big in this picture.

S9224: Women's dress, OOP, from 1979

Pattern Sizing: 18 & 20

Did it look like the photo/drawing on the pattern envelope once you were done sewing with it?
Actually yes. Even more so because I used the same color fabric that was on the package

Where the instructions easy to follow?
Yes they were.

What did you particularly like or dislike about the pattern?
I made it right out of the package. I always love not having to make adjustments! I do not really care for front slits. My knees are meaty and I don't feel modest with this type of feature. I also finally figured out what the directions mean when speak on inserting the waistband. I did it like that. I don't think it was easier. I will see how it wears.

This was my 1st time with these types of button holes. Oh there was a lot of internetting to figure out what they meant. I think I got it. Next time it will be better

Fabric Used:
Cream knit. I don't know what kind of knit. It was that type of store. As of yet, I'm not itching, but that could change. The knit doesn't have a lot of body to it. I wore a girdle although the popular current word is "shapewear" to camouflage the lumps, but you can see the shapewear. I don't really see the point?

Pattern alterations or any design changes you made:
None I was testing out the waters...

Would you sew it again?
I plan too. I want to make one of the short sleeved longer versions for the summer in a cotton, possibly with a print. Maybe for the 4th of July? Does anyone other than me plan that far in advance?

Would you recommend it to others?
Yes if you can find it.

Conclusion: I'm very satisfied!

Stay tuned for bornday outfit #2!



Peace